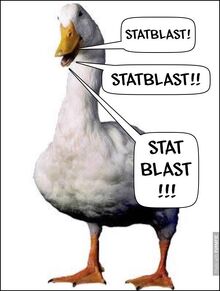 The Play Index segment was a regular part of the email listener episodes during the Sam era, in which he would use the Baseball-Reference research tool to answer a statistical question put forth by himself or a listener. The Play Index did not become a sponsor until
Episode 387
, at which point listeners could get a discount by signing up with the promo code "BP." The first official Play Index segment came in
Episode 391
, and dealt with the drop in triples in the American League since the 1970s.
Around the time of the show's transition to FanGraphs, the sponsorship was ended and the segment was continued by Jeff but without an official name. On Episode 1146 in December 2017, Jeff had decided on "Stat Blast." An intro theme performed by Ben's wife, Jessie, was later added to the segment in Episode 1152.
Stat Blast Theme Lyrics
Edit
They'll take a data set sorted by something like
ERA- or OPS+
And then they'll tease out some interesting tidbit,
Discuss it at length, and analyze it for us
In amazing ways
Here's today's
Stat Blast!
Community content is available under
CC-BY-SA
unless otherwise noted.