Mike Trout is the center fielder for the Los Angeles Angels.
His first full season was 2012, the same year Effectively Wild began. Trout is one of the most frequently discussed players on the show. Common topics include his extraordinarily high level of play, comparisons to Bryce Harper, and hypothetical situations. Episode 797 was dedicated to how one could explain Trout's greatness to non-fans.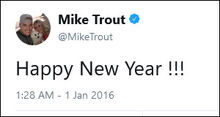 Other recurring topics include his personality quirks, such as his fascination with weather and his unusual punctuation on Twitter (both in Episode 655), which consists of a space added before sentence-ending punctuation.
The $100/month Patreon support tier is named after him.
The hosts consider in-season statistics to be valid once Mike Trout reaches the top of the WAR leaderboard. (Episode 1360.)
Trout Hypotheticals
[
]
Effectively Wild listeners will often submit unusual Trout-based scenarios (with the hosts usually being asked to determine how good he would still be if forced to play with a given handicap). Examples include:
In Episode 1807, Ben and Meg list some of the listener-submitted Mike Trout hypotheticals, and Meg adds some she considered in a story for Baseball Prospectus.